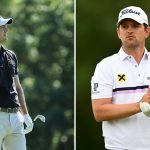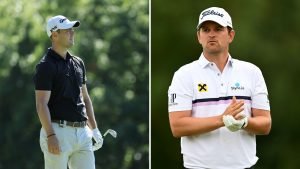 Martin Kaymer und Bernd Wiesberger mit leichten Verbesserungen am zweiten Tag der LIV Golf Series in Bangkok, Lopez-Chacarra erspielt sich deutlichen Vorsprung.
Es geht weiter, mit dem ersten Turnier der LIV Golf Series in Asien. Im Stonehill Golf Club in Bangkok, Thailand treten die Spieler gegeneinander an und zeigen auch am zweiten Tag grandiose Schläge. Martin Kaymer kämpfte direkt zu Beginn seiner Runde mit dem Par 3 der 15. Bahn, Bernd Wiesberger hingegen beließ es bei Birdies und Bogeys auf seiner Runde. Gut sieht es wiederum für Kaymers Team, die Cleeks, aus. Auf Rang zwei starten sie nur sieben Schläge hinter den Fireballs von Sergio Garcia in den letzten Tag in Bangkok.
Hier geht's zum Leaderboard des Bangkok Events
LIV Golf: Martin Kaymer und Bernd Wiesberger weiter am Straucheln
Martin Kaymer begann seine Runde auf der 16. Bahn und fing sich direkt zwei Schlagverluste ein. Das Doppelbogey zum Einstieg in den zweiten tag glich er auf den Bahnen 1 bis 3 gekonnt mit einem Birdie-Feuerwerk aus. Nun bei einem Schlag unter Par misslang ihm der Parputt auf Bahn 4. Doch auch hier bewies Kaymer starke Nerven. Direkt am nächsten loch gelang ihm ein spektakuläres Eagle. Auf dem 310 Meter langen Par 4 platzierte er seinen Drive auf dem Grün und puttete zur zwei auf dem Par 4.
Eagle spotting

Watch here https://t.co/VopBjVyY4e#LIVGolfBangkok #LIVGolf pic.twitter.com/yNi8XOajGu

— LIV Golf (@LIVGolfInv) October 8, 2022

Zurück auf den Back Nine gelangen ihm zwei weitere Birdies an den Löchern 12 und 14. Zusammen mit dem ärgerlichen Bogey auf seiner letzten Bahn beendet Kaymer den Tag mit drei Schlägen unter Par. Sein Team, der Cleeks GC, machte an Tag zwei erneut eine gute Figur. Drei Runden unter Par summieren sich zu einem Gesamtscore von 26 Schlägen unter Par auf. Nur zwei Teams stehen aktuell besser dar. Die Niblicks beenden Tag 2 bei -27 und Sergio Garcia und sein Fireballs GC überbieten alle und führen die Teamwertung mit -33 an.
Auch Bernd Wiesberger notiert an Tag zwei die 69er drei unter Par Runde. Der Österreicher teete an seinem Geburtstag zusammen mit Kaymer auf. Doch im Gegensatz zu seinem Flightpartner leistete er sich weniger Ausrutscher in die ungewöhnlicheren Ergebnisse. Wiesberger beließ es bei drei Birdies auf den Back Nine, sowie einem auf den Front Nine des Kurses. Er ergänzte diese leider mit jeweils einem Bogey auf den beiden Hälften der Runde, das letzte nur drei Bahnen vor Schluss. Damit liegen beide Spieler auf dem geteilten 38. Platz.
Eugenio Lopez-Chacarra stürmt davon
Bereits am ersten Tag mischte Eugenio Lopez-Chacarra ganz vorne mit. Am zweiten Tag erspielt er sich nun eine mehr als komfortable Führung vor Richard Bland. Ohne Bogey, davor mit sieben Birdies und einem Eagle, spielt sich Lopez-Chacarra auf einen Gesamtscore von 16 unter Par und einer fünf-Schläge-Führung.
@Eugeniochacarra holes out from the green side bunker on hole 6th to make eagle!

The Spaniard is now 1⃣2⃣ under.#LIVGolf #LIVGolfBangkok

— LIV Golf (@LIVGolfInv) October 8, 2022
.@Eugeniochacarra takes a 4 shot lead

Watch here https://t.co/VopBjVyY4e#LIVGolfBangkok #LIVGolf pic.twitter.com/0dlO4VW2SA

— LIV Golf (@LIVGolfInv) October 8, 2022

Dahinter lauert Richard Bland. Er leistete sich ein ärgerliches Doppelbogey auf der 8. Bahn, blieb sonst jedoch fehlerfrei. Mit dem ausgleichenden Eagle kommt er auf vier unter Par für den Tag und -11 insgesamt. Mit ihm zusammen liegen noch Sihwan Kim, Harold Varner III und Patrick Reed auf dem geteilten zweiten Platz.
The post LIV Golf: Kaymer und Wiesberger mit gutem zweiten Tag in Bangkok appeared first on Golf Post.